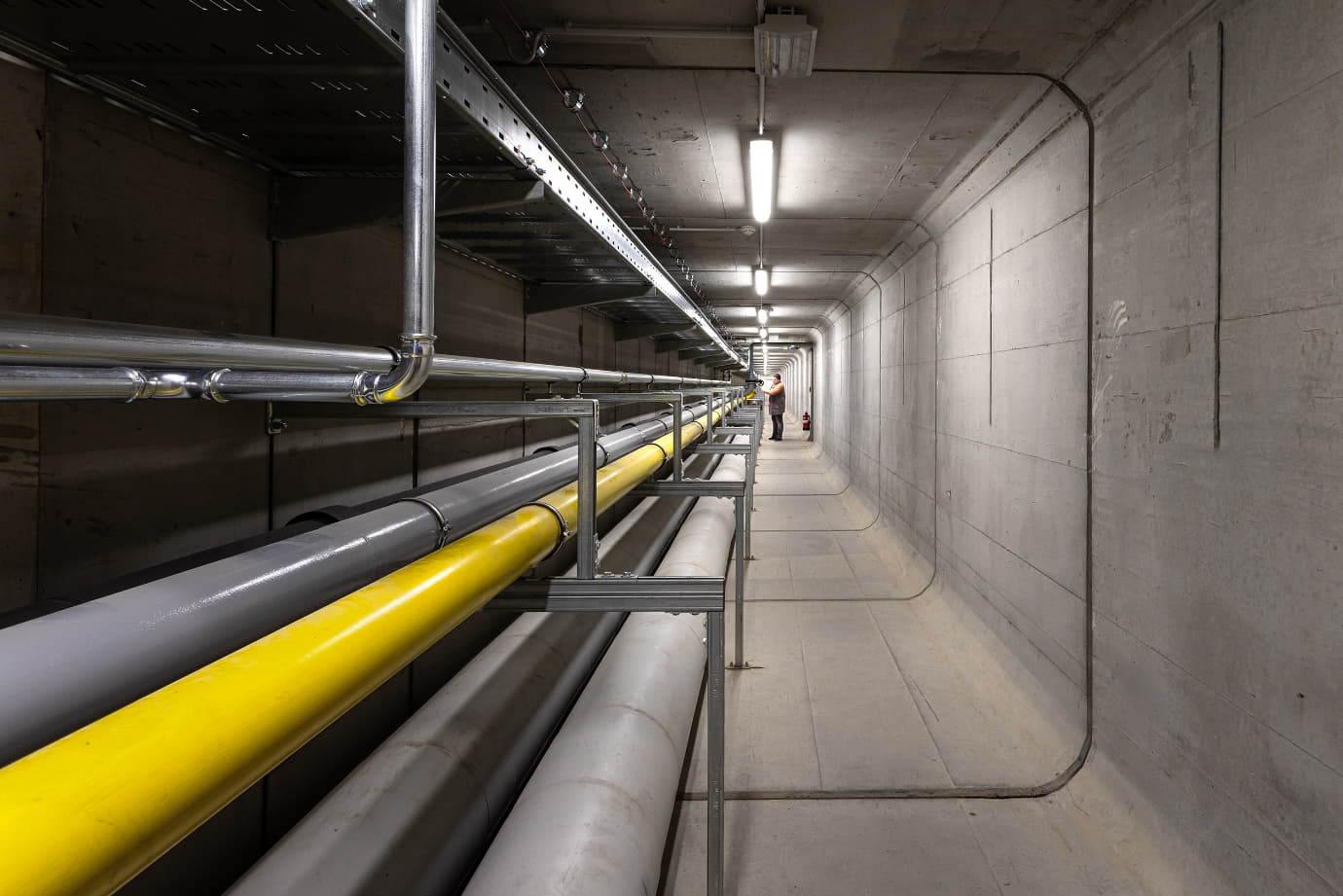 Efficiency hunters
Our goal for 2030? To cut energy consumption by at least 40 percent compared to 2019. That is no easy task for overall project manager Uwe Boßmann. After all, the efficient use of materials, efforts to save energy, and a visionary approach to designing buildings and spaces are already par for the course at STIHL today. At the STIHL magnesium diecasting plant in Weinsheim, Germany – one of the largest and most modern of its kind in Europe – a 160-meter tunnel is just one of the elements helping the company come one step closer to this goal.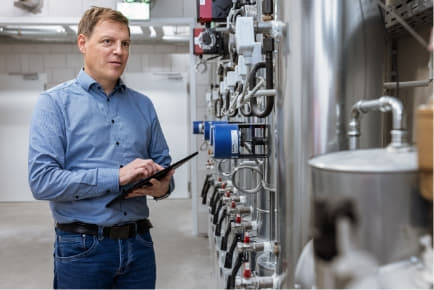 During a visit to Weinsheim, Uwe Boßmann finds himself standing in the mechanical room of the new, 6,000-square-meter production building, where he checks the pipes. "The heating system itself, though, isn't actually located in the mechanical room," says Boßmann. Jörg Marxen, who oversees energy efficiency projects for building infrastructure at the magnesium diecasting plant, explains why that is: "A separate heating system isn't necessary here. That's because our compressed-air system, which supplies the entire plant with compressed air, generates a lot of waste heat. Our entire production logistics zone can be fully heated through heat recovery using compressors. That allows us to save almost 400,000 kilowatt-hours of energy a year." The greatest challenge? The compressed-air system is located at the other end of the plant. "While we were building the logistics space, we also dug out an underground tunnel through the center of the plant last year that would allow us to take the waste heat produced by the compressed-air system – over 1 million kilowatt-hours a year – and direct it to where it is needed," Marxen adds.
Today, waste heat keeps the production logistics team warm and is used to heat water for the cafeteria and staff locker rooms, helping save an additional 130,000 kilowatt-hours a year. Project manager Marxen sees tremendous potential for the future: "At 2.3 by 2.5 meters, we made the tunnel a little more generously proportioned so that we could gradually create an entire network that would allow us to distribute and keep using the excess energy released during our production processes throughout the entire plant. That will let us boost our energy efficiency by a substantial margin in terms of building infrastructure."
»That will let us boost our energy efficiency by a substantial margin in terms of building infrastructure.«

Jörg Marxen

Responsible for plant technology and infrastructure
Efficient burners for melting magnesium
Besides heat for indoor spaces, the production of the various magnesium parts made by the plant also has an impact on the need for energy in Weinsheim. The manufacturing process is energy-intensive. That is because the magnesium alloys first have to be melted down at a temperature of around 630 degrees Celsius before they are cast into molds under tremendous pressure. During his tour of the plant, Boßmann has an opportunity to see for himself how enhancements to the furnace are helping increase energy efficiency by roughly 50 percent. After stopping to inspect some of STIHL's diecasting equipment, Thomas Jardin, who heads up the project, explains how it works: "Using a gas burner, the magnesium is heated in a crucible inside the furnace. The recuperators are the key to saving energy: They use the hot incoming exhaust to heat the freshly aspirated combustion air to 450 degrees Celsius before it makes its way into the furnace and to the burner. This recuperative preheating helps save a tremendous amount of fuel."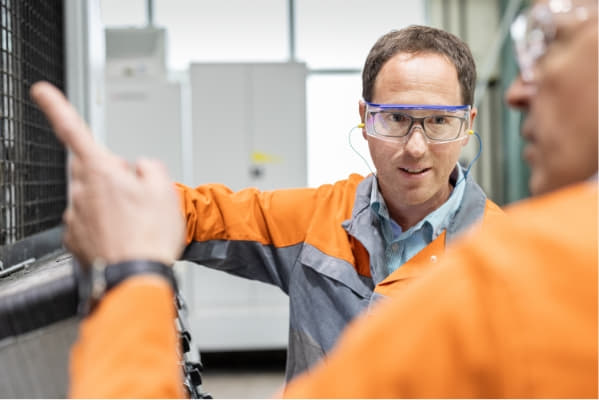 In combination with improved, state-of-the-art furnace isolation and optimized furnace control technology, the approach makes it possible to save roughly 400,000 kilowatt-hours of energy in total every year, depending on the furnace system. The reduction in gas consumption prevents some 80 metric tons of CO2 emissions a year for each furnace. "That saves a total of roughly 480 metric tons of CO2 a year just on the older diecasting equipment that has already been retrofitted with recuperators," Jardin says. "We will be equipping the remaining systems with recuperators this year and next, which will save another roughly 600 metric tons of CO2 a year. They're already standard in each new furnace. I could even imagine gradually converting the burner systems from natural gas to hydrogen or alternative gases in the future to further improve our magnesium diecasting technology's climate footprint."
More energy efficiency throughout the STIHL Group
By partnering with external energy experts to conduct a potential analysis, the project team has identified further opportunities to make the entire STIHL Group more energy-efficient in Weinsheim and beyond – and to help us achieve our target of increasing energy efficiency by 40 percent between now and 2030. As Boßmann explains: "Our projects are more or less based on three pillars that feed into each other. First, we have our eyes on making production more efficient by optimizing our processes and machinery, just like we have here in Weinsheim with our magnesium diecasting equipment. We're also focusing on the buildings and infrastructure surrounding the machinery. Sensible, better-coordinated building management with regard to heating and heat use, compressed air, cooling water, lighting, and ventilation offers a host of additional ways to increase efficiency." The efficiency potential that Boßmann and his team have identified will help the company save money, even if implementing their recommendations requires significant investment at first. The projects save energy and all make financial sense in the long term.
increase in
energy efficiency by 2030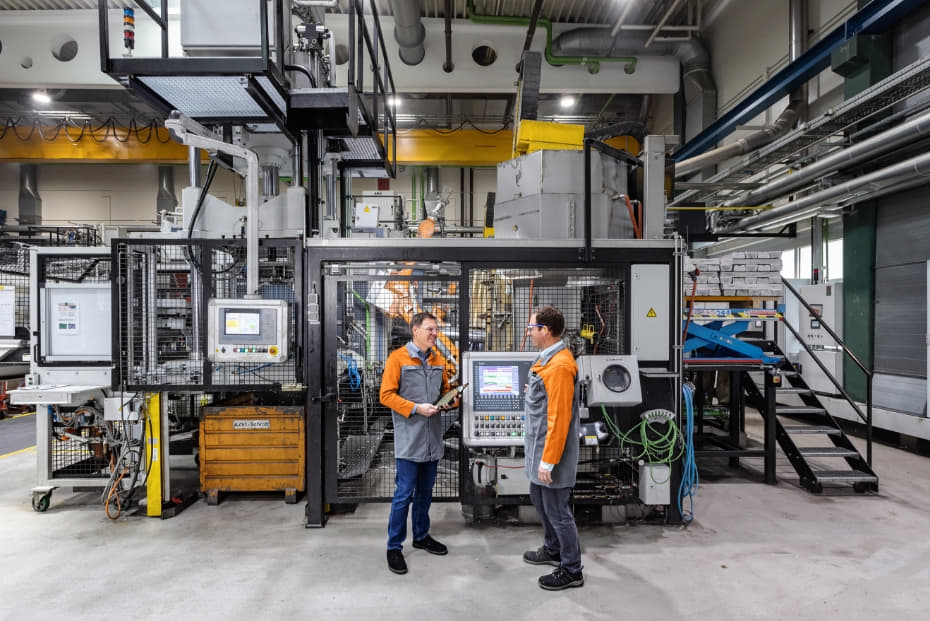 Modernizing the ventilation system at the largest STIHL plant in Waiblingen, Germany, and adapting its control technology so that it operates according to current needs, for example, has the potential to save around 500,000 kilowatt-hours a year. In fact, the planned optimization of heating and cooling technology could even help save over 1 million kilowatt-hours of energy. By reducing gas consumption, that works out to 5,000 metric tons less of CO2 every year.
Boßmann: "We also need to increase awareness of energy consumption overall, which is the third pillar of our project. By being energy-conscious, every single one of the 19,000 employees within the STIHL Group has the potential to be an efficiency hunter. Together, we can make a big difference."
ENERGY-SAVING POTENTIAL OF NEW EFFICIENCY PROJECTS AT THE FOUNDING COMPANY IN WAIBLINGEN (SELECTION):
Roughly 500,000 kilowatt-hours a year: modernizing the ventilation system in production and incorporating control technology that lets it operate according to current needs
Over 1 million kilowatt-hours a year: optimizing cooling and heating technology to save 5,000 metric tons of CO2 a year through lower gas consumption