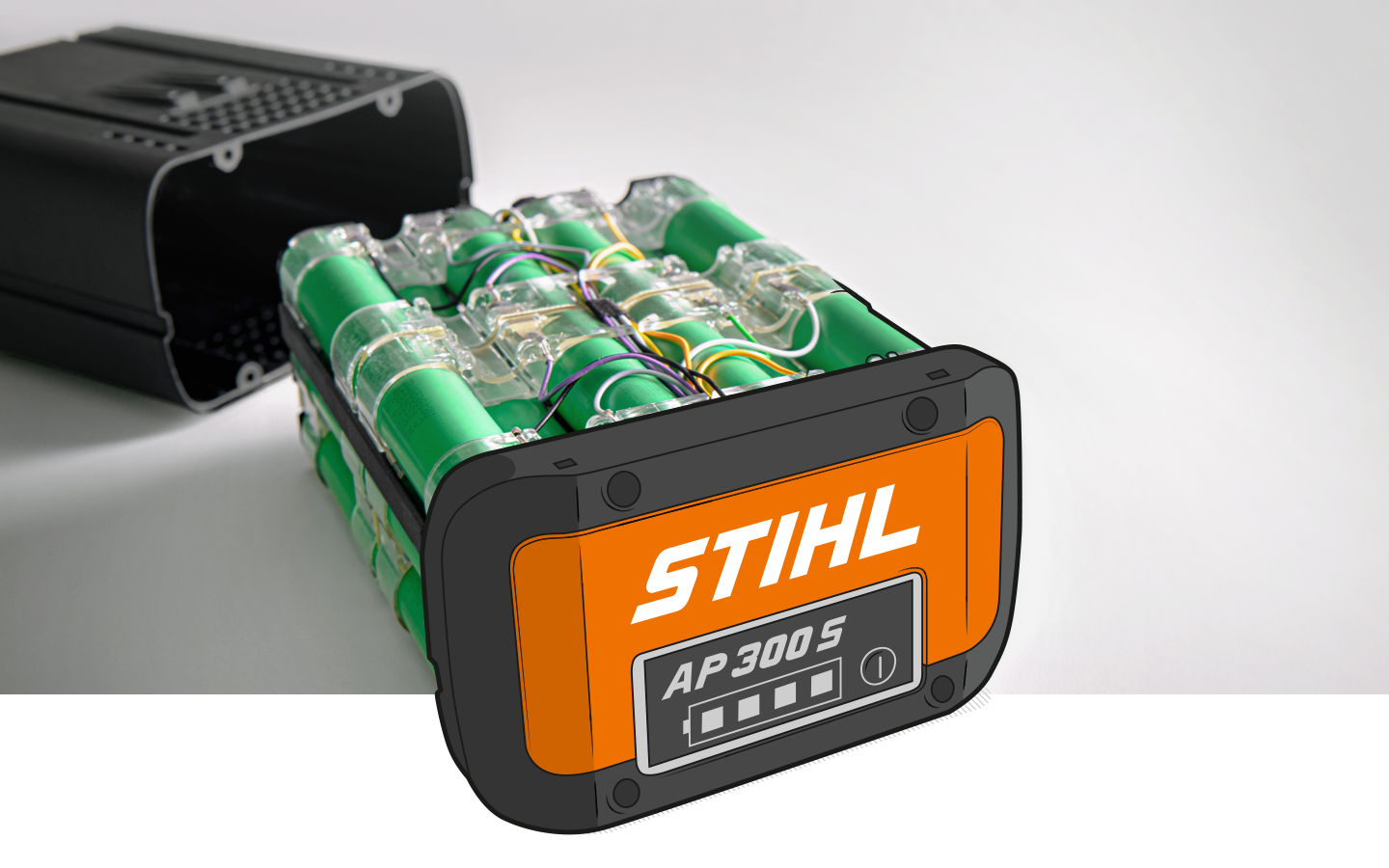 From raw material to battery pack
Wherever possible, the STIHL Group takes responsibility for its supply chains. We are committed to making our supply chains, particularly those of a potentially critical nature, more transparent and sustainable.
Battery-powered products are quiet, create zero emissions at the point of use, and are becoming increasingly popular. Yet some links in the chain – from extracting raw materials to manufacturing and recycling batteries – are opaque and in need of improvement. That is why STIHL is carrying out in-depth analysis of potentially high-risk supply chains to identify and seize potential for optimization. We are currently analyzing our mineral procurement supply chains on a successive basis with the help of the Responsible Minerals Initiative (RMI), which STIHL joined in 2021. The first supply chain to come under scrutiny is the one for cobalt, which is considered particularly critical.
The battery cell
Although there is only a relatively small amount of cobalt in a lithium-ion battery, the metal is a vital part of any high-performance portable power solution. Cobalt is used as a basis for the cathode material and is also responsible for giving the cell its high energy density, quick-charging capabilities, and long life span. Rather than manufacturing its battery cells in-house, STIHL procures the components from a handful of carefully selected suppliers. Consistently high battery quality is guaranteed through close collaboration with suppliers and continuous control.
Battery pack production
Battery packs consist of a group of battery cells, which are grouped together in a housing that protects them from their surroundings. Many STIHL battery packs are manufactured in-house in partnership with battery cell suppliers. High-performance packs for professional applications are also produced at our own battery pack production facility in Germany. All STIHL battery packs exclusively contain lithium-ion battery cells that vary only little in terms of their mineral composition. They provide impressive service life and energy density coupled with low weight and low self-discharge. Due to the lack of a memory effect, there is no loss of capacity in the event of partial discharge.
30
battery cells
in one STIHL AP 300 S.
Manufacturing battery cells
The process of manufacturing a battery cell starts with two electrode sheets: a positive one for the cathode, and a negative one for the anode. Together with other minerals and additives, the cobalt is turned into a paste, a thin layer of which is applied to an aluminum-coated carrier sheet. Once the paste has dried in the oven, the sheet is rolled up, compressed using rollers, and cut to size. After that, the battery cells are assembled. Using a separator, the cathode and anode sheets are stacked alternately on top of each other in the battery housing before connecting the pole contacts and adding an electrolyte. Following initial charging and discharging, the cell properties are tested in a process known as aging.
Most battery cell production sites are located in China. Typical risks there include long working hours, low pay, a lack of safety in the workplace, and insufficient environmental protection. We provide greater transparency regarding our battery cell suppliers and their production sites through a cloud-based sustainability assessment platform. This allows us to work toward realizing improvements in collaboration with our suppliers along a defined development pathway.
Smelters, refiners, and input materials
Cobalt is separated from nickel, copper, and other byproducts in the smelter, before being sent to the refinery for further processing. Most cobalt producers are located in China. The pure cobalt is delivered in the form of solid blocks, slabs, or powders that form the basis for further processing. The primary materials are usually traded freely on the market, making further tracing impossible in most cases. This part of the cobalt supply chain lacks transparency. Because smelting and refining are high-energy processes, the production of cobalt is assumed to have a large carbon footprint. In addition, chemical waste, toxic gases, and particulate matter often cause soil, water, and air pollution.