Biodiversity in 3D
To promote biodiversity, many cities are taking a targeted approach to how they design outdoor spaces. As part of the Biodiversity in Communities project, STIHL's municipal partners are showing the world how drones and artificial intelligence can be put to good use.
The rotor blades of the drone whir away. Vertically, the unmanned aerial vehicle takes off and glides silently in the air, 30 meters above the Hörschbach, a narrow river in Waiblingen. On this sunny Friday in July 2022, the drone, operated by a FlyNex pilot, is surveying some 11,500 square meters of land, taking more than 550 individual pictures in the process. Using those images, FlyNex will later generate a 3D model showing every individual blade of grass – including patches of giant knotweed.
Before-and-after in Waiblingen
"Giant knotweed is an invasive plant species, or neophyte, that is spreading rapidly around the Hörschbach and displacing native plants, which is damaging biodiversity," says Achim Wieler, the head of Waiblingen's municipal public spaces maintenance facility. That is why plans are in place to remove the plant over a large area. The efforts to combat giant knotweed are one of the land restoration measures designed to create additional habitats for native plants and microorganisms along the Hörschbach. "We also plan to replace spruces with locally native woody plants, level out the bankside, and restore a natural stream course as best we can by undoing the river's straightening," Wieler adds. The first restoration measures are planned for 2023. Further drone images will be captured at regular intervals to provide a before-and-after comparison and document the outcomes digitally.
»Communities have tremendous potential to make their spaces more biodiverse.«

Christoph Hiller VON GAERTRINGEN

Head of the Biodiversity in Communities project at STIHL
Waiblingen, in the German state of Baden-Württemberg, is one of three cities participating in the STIHL Biodiversity in Communities project. "Communities have tremendous potential to make their outdoor spaces – such as parks, green areas, athletic fields, or cemeteries – more biodiverse," says project manager Christoph Hiller von Gaertringen. "Our project gives us valuable insights into how this potential can be used even more effectively with modified products, as well as new applications or services." STIHL already builds and markets tools that support biodiversity in green spaces today.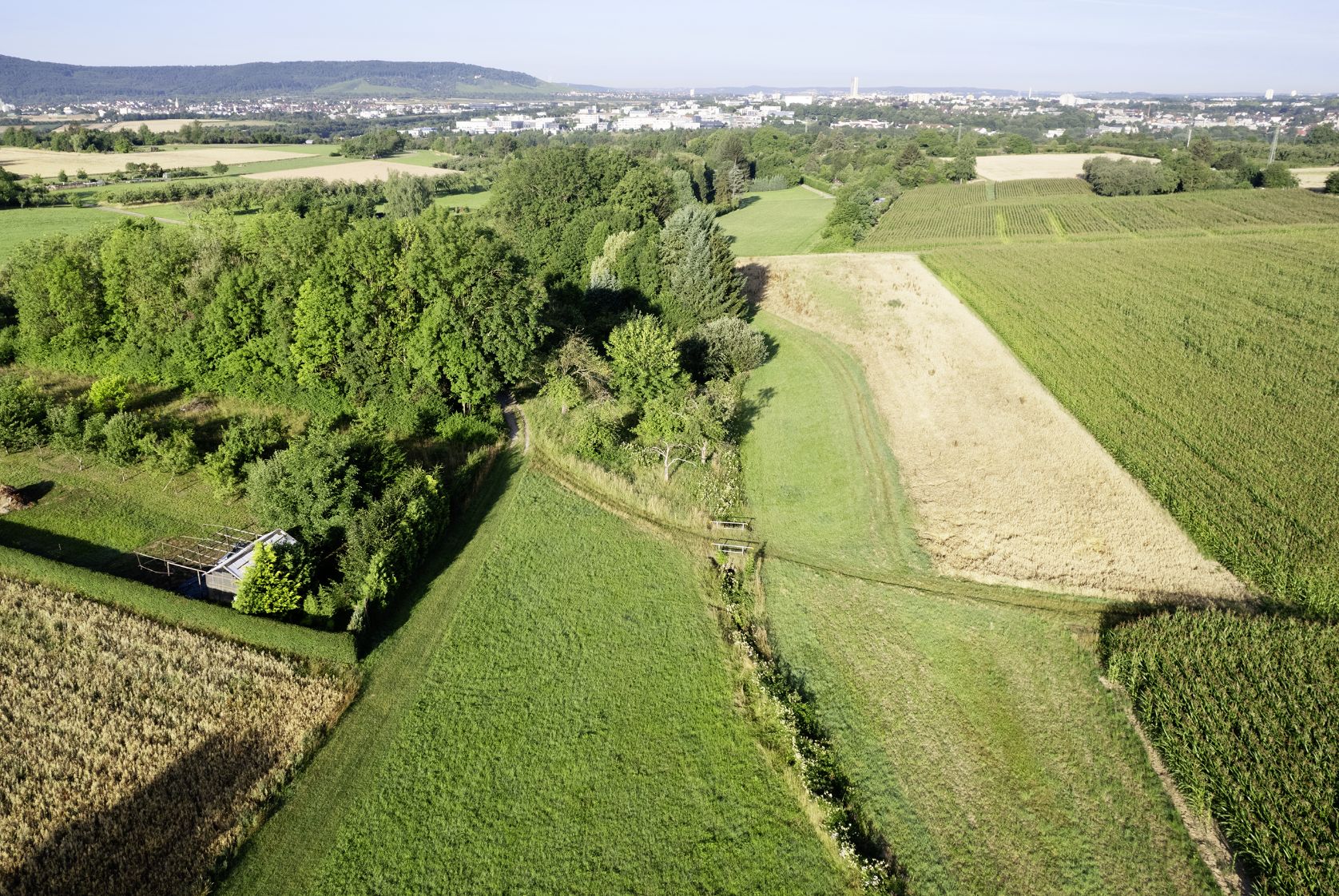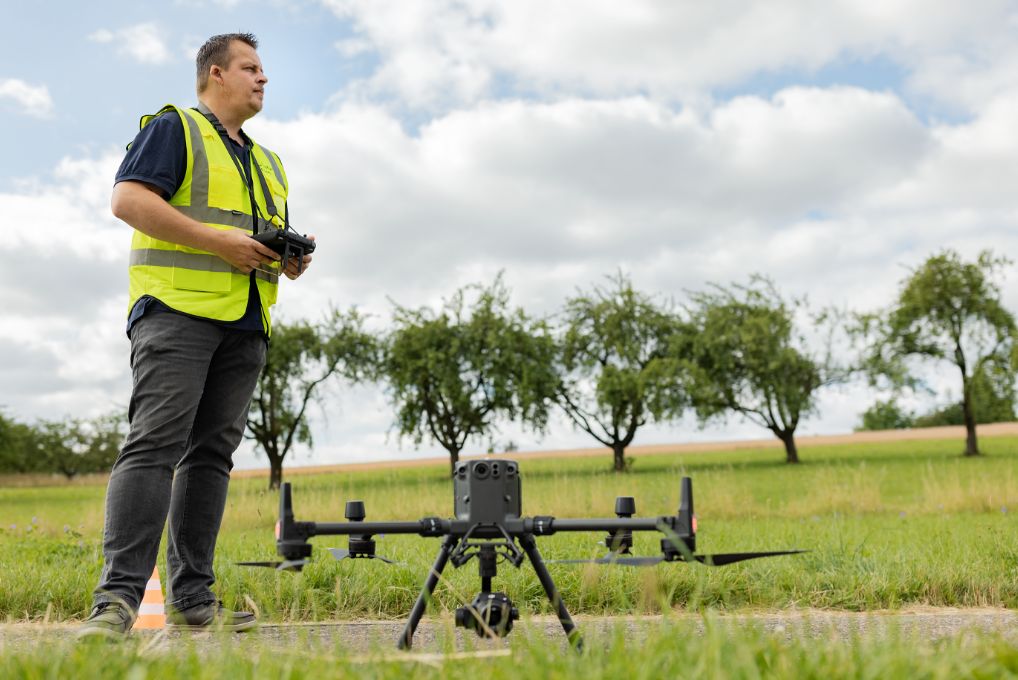 Artificial intelligence (AI) spots invasive plants in Pirmasens
Pirmasens is also an active participant in the project. The southwestern German city called on FlyNex in summer 2022 to get drone images of hard-to-reach sites. Among them were sections of the Strecktal park along the Blümelsbach river, where giant hogweed and goldenrod, two non-native plant species, had spread. AI-supported recognition software was later used to analyze the drone images, helping create 3D models to identify neophytes and measure their spread. "The AI software allowed us to save money and resources while finding the neophytes and take a more efficient approach to removing them," says Michael Maas, who is in charge of construction and green spaces for the city. By mowing less frequently and later in the season, setting up islands of coarse woody debris, and planting fruit trees, among other measures, Pirmasens plans to foster additional biodiversity in the surveyed spaces.
Digital drone technology
Founded in Hamburg, Germany, in 2015, FlyNex is an all-in-one platform for drone-based data management. Combining drones and artificial intelligence (AI) can help automate data planning, collection, and analysis. Businesses and organizations around the world turn to FlyNex to inspect and digitally manage facilities, land, and buildings. In 2021, the STIHL subsidiary STIHL Ventures GmbH entered into a strategic partnership with FlyNex to bring the technology to forestry and horticulture in the future.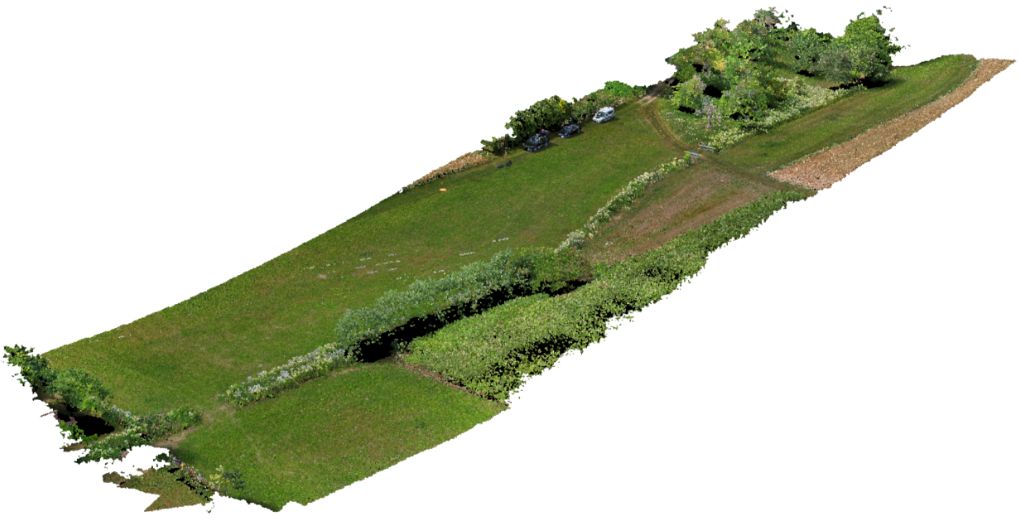 Setting aside space for biodiversity in Losheim am See
Losheim am See is the third project partner. The city in the German state of Saarland is looking to transform its green areas into biodiverse spaces. "Simply doing nothing isn't an option," says Werner Ludwig, head of the municipal department of environmental and municipal development in Losheim am See. "To increase biodiversity, we have to change our land management techniques." As a result, the local authorities plan to set aside dedicated spaces on large parcels of manicured grass to foster biodiversity. Around a local elementary school, for example, the municipality has created quadrangular plots measuring roughly 100 square meters each that promote structural diversity and offer animals and plants food, protection, and a habitat. Going forward, Losheim am See plans additional measures to create further nesting and shelter opportunities.
No matter the location, modern technologies such as drone images and AI can help efficiently assess and measure the success of steps to promote biodiversity in any community.
Biodiversity matters to gardeners
A majority of German garden owners say biodiversity in their own garden is important or very important to them. According to the findings of the 2022 STIHL garden barometer, a representative survey of German garden owners, around 70 percent have already taken targeted steps to promote biodiversity. The most popular methods include growing regional plants that provide food for birds and insects, as well as planting strips or beds of flowers next to or in the middle of lawns and adding bird tables or birdbaths. Only 5 percent of garden owners say they do not care about biodiversity in their own gardens. Interestingly, biodiversity appears to be more important to people in urban environments than to those in rural areas. It also matters less to younger respondents than to older ones. The 2022 STIHL garden barometer survey was conducted online by the market research firm (r)evolution GmbH in October 2021 and looked at responses from 1,000 garden owners in Germany.